Campbell Lake has a reputation as big as this country... a place where pike legends are born.

Many monstrous pike have been caught and released on this lake, with the largest measuring in at 55", 53.1/2", 52", 51.5", 51, 51",50 1/4" and a 50"er. This is truly an amazing feat that very few lakes can match. This pike paradise lies about 70 miles north of Thompson Manitoba, and the only way in is to fly in.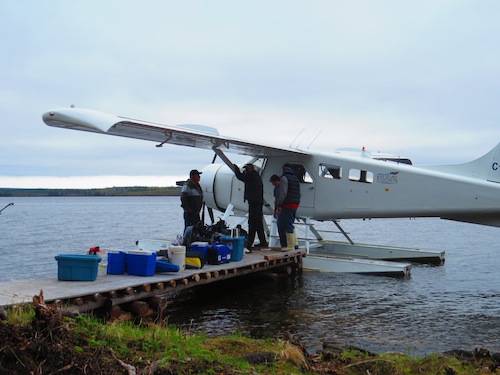 The Northern Pike fishing here is not for the faint of heart or weak in the knees, these pike are extremely ferocious and will exceed any thrill-seeking fishermen's expectations.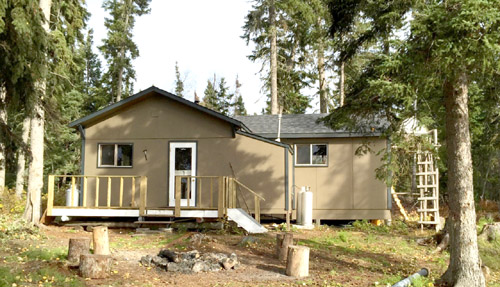 This spacious cabin accommodates 4-6 adults comfortably. It is equipped with a  kitchen, supplied with running water and contains a propane fridge and stove, with a barbeque on the deck. We have added an attached shower room with a hot water tank so that our guests can enjoy a hot shower even in this remote location.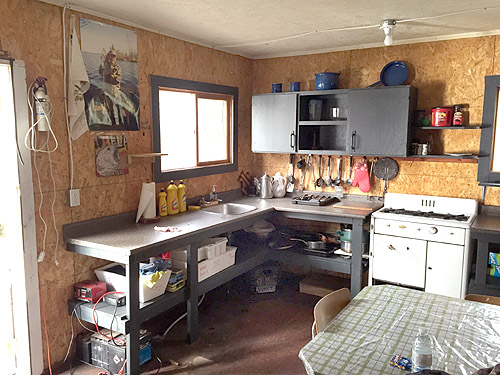 There are 4 bunk beds with foam mattresses, 2 in the main area and 2 in the back bedroom. For those cold nights, there is a good wood stove in the main area to keep you warm and toasty. The cabin is also equipped with coolers for the boats, an assortment of tools and equipment you may need and a satellite phone for emergency use.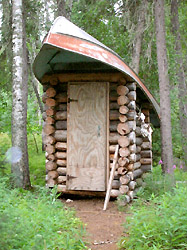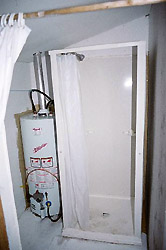 The outhouse at Campbell Lake is about as unique as they come. This log outhouse has as a roof a 14-foot aluminum boat and is known to some as the "boathouse".
These 16-foot boats are equipped with reliable 15HP Yamaha Outboard motors, swivel seats, life jackets, paddles and release cradles.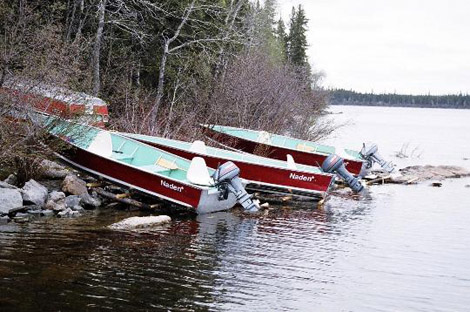 These trips include air transportation into and out of camp, accomodations, boats, motors and gas. The cabin is equipped with a full kitchen, propane fridge and stove and communication to the main lodge. You need to bring your bedding and food. If needed food packages are available.
Testimonial from the Bigelow party (2006)
"Jerry; Attached are a few pictures of the many trophy pike we caught this year at Campbell Lake outpost. What a great trip this year. Amazing fishing, 89 trophies among 6 guys in 7 days (average over 2 per guy per day!) The outpost cabin was great, the boats and motors worked fine, my Dad appreciated the hot shower, and we even had a bear greet us in camp on the last morning. Thanks again for a great trip."
Scott Bigelow
Testimonials
"The week at Campbell was the same as usual, rain, wind, snow, and thankfully a few days of sun. We ended up with 3 perfect days of weather where we were able to coax 44 of those big girls (fish over 40") into taking flies. The fish this year were a size I have never seen, we had a couple with 21" girths!!  Our biggest of the trip was 46", of which I got 2, and of course we lost a few bigger fish also. It was a pleasure meeting and talking with your father and John the 4 days they were in camp.  Made the trip all that much more fun being able to see just what makes everything work up there.  I will get you pics when we get them pulled of the cameras, it should be sometime this week.  Another great trip, and a big thanks from the 4 of us for another opportunity to fish that world class lake.  Next year maybe we'll break the 50" mark!!"
Talk soon, Nate

"Well it was amazing! We ended up with 10 over 40". The biggest was a 44 1/4" along with a pair of 43 3/4". We couldn't believe how good the walleye fishing was. One morning we caught a combined 218 walleyes between two boats! Our grand total fish for the week was 1703! Thanks for setting us up on a trip of a lifetime!"
Aaron (Summer 2014)  

"By the way, our biggest fish was just a breath under 44", but I had something MUCH bigger on that I never got to see.  I also saw one that followed up that had to have been close to 50"!! Thanks again Jerry!"
Daryl

"Jerry - Attached are a few pictures from our trip.  3 generations of Master Angler Pike were caught. Grandpa, son, and grandson.  In all, we caught 15 MA's, not shabby at all.  We would like to thank you for the opportunity to fish this beautiful lake.  We would definitely recommend your outpost on Campbell Lake.  Many great memories were made."
Best Regards,  
Tim
Grandview, MO
"I had a great fishing experience on my fly in trip at Campbell Lake . The fishing was excellent. Each member of my group caught four or more pike over forty inches. The largest was 46 1/2 inches. I was impressed with Dunlop's outpost operation and looking forward to coming back."
Sincerely, Joe Hoffman MN.