Lake Waskaiowaka is truly a spectacular place to fish, with so much structural diversity that you will never be tired of the same old water.
NORTH END
In the north end, you find shallow mud-bottom rivers with dark waters thriving with walleye. The most famous of these is known as "The Walleye River". This is a place where the walleye stack up after ice-out and the big pike come to feed. Many fisherman come here only to get caught in the middle of a feeding frenzy. It is not uncommon for one boat to catch 100 to 200 pike and walleye of all sizes in a single afternoon.
NORTH WEST
To the far north west is the most breath-taking views. Here is where the glaciers cut deep into the earth leaving massive rock faces and plenty of structure. This is also the deepest part of the lake with lots of good drop-offs, some holes reaching 70 to 90 feet of water. We named one area "Canyon River" because of the sheer cliffs on its sides. Large walleye were found at the mouth of this river well into July.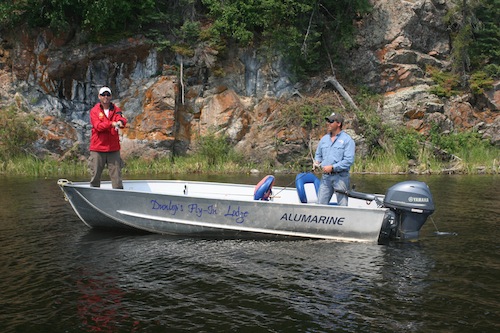 EAST END
On the east side of Lake Waskaiowaka, just a 2 minute boat ride from camp, lies a 4-mile stretch of rocky shoreline with a good drop-off which leads to deep water. This drop-off is known to those that have fished it as "The Wall". Here is the place where you go and consistently catch 100 fish like it was nothing. The Wall quickly became a favorite spot for many since it produced many trophy pike and because of the huge number of fish that hold up there.
The best way I heard someone describe "The Wall" was when after catching 75 pike and 2 trophies, in about as many casts, stopped fishing for a minute and looked back at me and said: "This just isn't fair for the fish!"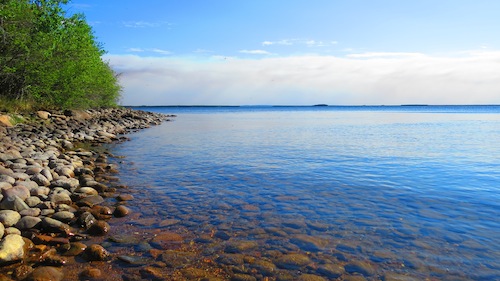 SOUTH END
Down at the south end of the lake, you will find big sandy bays with clear blue water. This is an ideal place to site-fish for big pike. When the pike move in, they have nowhere to hide. Many times, you can get into a spot where you can stand up in the boat and see pike all around. Just picking out the biggest to throw your lure at is the tough part.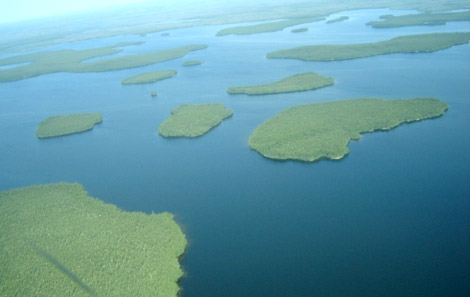 LITTLE CHURCHILL RIVER
With the lodge located at the mouth of the river, the Little Churchill River is a great place to fish if you're looking for a nice and close fishing spot for the evening. The excellent walleye fishing starts about 200 yards from the dock. Here, in 10 feet of water, lies a short weed bed that the walleye love to hang out in. Even a 45" pike was caught here on a walleye jig and 6 lb line. One mile down the river from camp is where you can find "Alligator Bay". This bay has a reputation for producing some of the best pike stories ever. They don't call this bay "Alligator Bay" for nothing.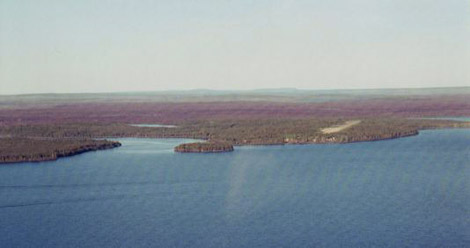 HALE LAKE
Travel a few more miles down the Little Churchill River and it will open up to Hale Lake - a favorite spot for many since trophy pike are found here in abundance. This lake is an awesome place to come and explore, as well as a great place to come out of bad weather. In fact, even on the worst weather days, the river and Hale Lake are still very fishable. Not one day of fishing was lost due to bad weather this year.
CABBAGE BEDS
One of the most important weed types on this lake to know about is the so-called "cabbage" plant. Cabbage is known by many different names but in this part of the country, we call it cabbage or pond weed. The weed starts to grow in the deeper parts of the bays about the 4th week after ice-out and about 6 weeks after ice-out you can find them in about 4 to 12 feet deep of water along shore lines. They mature in late summer and when fully grown the weeds will reach the surface of the water and provide some great fishing for many weeks until they start dying and turning brown. Cabbage is very easy to identify as it has a long stock with a ¼ inch circumference and a broad leaf that is 1 to 2 inches wide and several inches long. The water around these beds has high oxygen content and holds many bait fish as well as Whitefish, Walleye, and Suckers. These bait fish like to live and hide in the weeds however these weeds only give them a false sense of security as the bigger and more aggressive pike use these same weed beds to ambush their prey.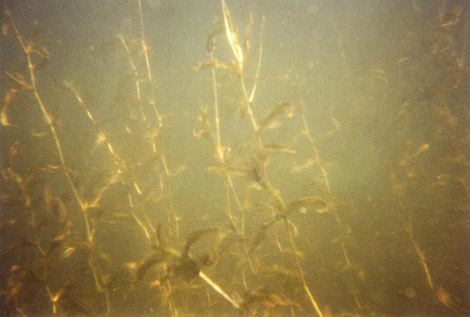 July and August is when the cabbage beds are at their best. Waskaiowaka Lake has many great cabbage beds to fish and we will show you where they are. You can also explore new water for undiscovered cabbage beds as this lake has miles and miles of shoreline that we have not yet fished. This time of year is a very exciting time to fish as a lot of trophy-sized pike and most of the pike that make 48" or better are usually caught from these cabbage beds.
There are many other special places to fish on the lake but we've got to keep some secret. Come and enjoy this fishery with us and you will not be disappointed!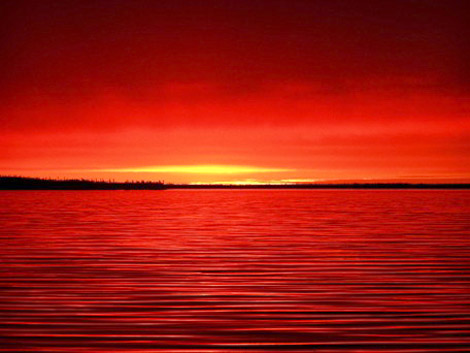 Sunset view from the Lodge