Dunlop's offers a limited number of fly-in trophy black bear hunts in Northern Manitoba Canada. Manitoba has a very good reputation for growing large black bears and producing many Boone & Crocket, and Pope & Young black bears into the record books every year! Our area had never been outfitted before us and the chance at a trophy black bear are very good as these bears have not been hunted and have no fear of man.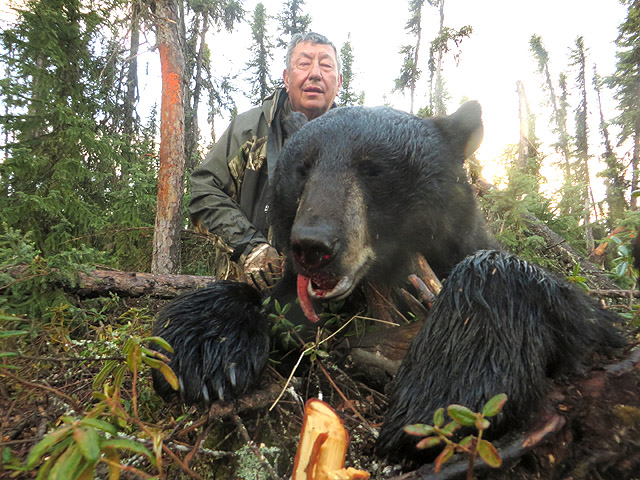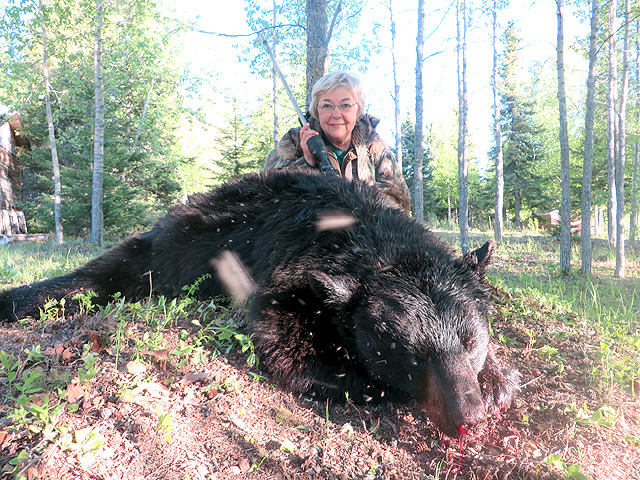 Hunting area
Our area is only hunted by a few lucky hunters every year as we are the only outfitter in this large area. Our fly-in location is beyond the reach of local and drive-in hunters giving us the freedom to hunt without interruption. Many of the bait sites around the lake have never before been hunted giving you a great opportunity to harvest a true trophy black bear. Many of the large bears that inhabit this northern region grow old and die never having been seen or hunted!
Tree stands
Our tree stands are located over bait sites around the lake, river systems and in small creeks coming into the lake. They're all strategically placed in dense bush so the bears feel safe coming in and giving the hunter the maximum advantage. We use 1 or 2 man ladder stands as well as a few portable tree stands that are all set for archery and rifle hunters at about 20 yards from the baits.
Transportation
All hunters travel around the lake and to their bait sites to hunt in our 16-foot Lund boats with 25 hp Yamaha outboards.
Trail cams
We use trail cameras to help see what size bears are coming into the baits and at what time. They're great tools to help us get you in the right place at the right time.
Color phase
Our exclusive hunting location has many different color phases of the black bear. Although most the bears are black-coated about 20 to 25% of them are the blond or cinnamon color. A few times we have even had a combination of two different coats.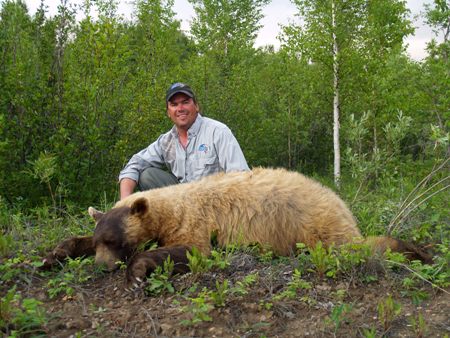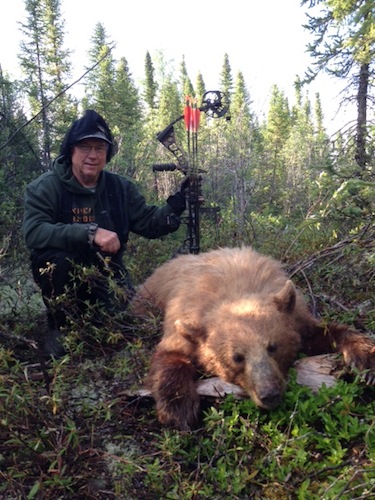 What's included
Flight from Thompson, MB to lodge & return
Fully Guided hunt
Food & accomodations
Bedding & linen
Fishing at Dunlop's is included in every hunt
Skinning, quartering and your trophy stored in freezers.
Fully equipped Alumarine Pro-guide deluxe boat with 40hp. 4-stroke motor
Extras
All prices, fees and in-camp purchases are in US funds and payable by cash or cheque. Extra charges include pop, miscellaneous purchases in camp, gratuities, taxes, Hunting & fishing licenses, ground transportation and hotel cost in Thompson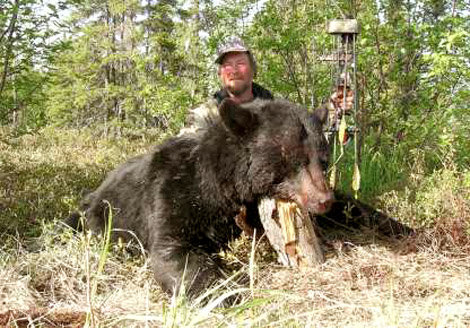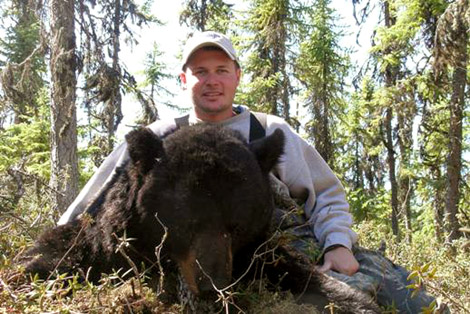 Suggested items to bring
Archery bow, muzzle loader, crossbow or rifle. We recommend 30 caliber rifles and up to do the job on these big dense bears. Fixed blade broad heads for bow hunters
Good quality rain gear
Rubber boots with thinsulate
Waterproof hiking boots
Bug suit, you must have coverage for your head and hands minimum
Bug repellent with 26-30% deet
Layered clothing: come prepared for cold. Spring weather in the far north is very unpredictable.
Polarized sunglasses
Camera and film
A good sized cooler for your trophy hide and meat. If it is more convenient you may leave your trophy with us and we'll take care of it. We deal with a reputable taxidermist who does excellent work.
Fishing gear: you are going to experience some of the best angling for northern pike and walleye in all the north. For the huge pike in these waters you need to bring a medium to heavy action rod with at least 17 lb test line and strong leaders. For walleye, a light action rod with 6 to 10 lb line works best. Remember the baggage weight limit is 75 lbs.
Rifle and Muzzle Loader hunters need to report their firearms to Canada Customs. Complete a non-resident firearm declaration form in triplicate, and pay a $50.00 (Canadian) fee. Copies of the declaration form are available by calling 1-800-731-4000, or at the border, or at www.cfc.gc.ca. Handguns and fully automatic firearms are prohibited. Cross bows and Bows do not need to be declared.
Package Price & Details
$3,900 US plus taxes and tag.
Fishing & hunting licenses are available through us.
Hunts originate from Thompson Manitoba
Deposits of 500.00 is due when booking the trip and and final payment is due by April 1st the year of your hunt
Spring bear hunts are operated out our main lodge in the month of June. As soon as the ice is off the lake, we start stocking our baits daily. We keep the baits rolling so there's plenty of action by the time you arrive. We only offer fully guided hunts. Our hunting guides are professionals who take pride in their work and will do their best to ensure your success. At maximum, we will run 12 black bear hunts per season.