Pelletier Lake outpost is the complete Canadian outpost package where everything needed for your adventure is provided.
This is where a trophy pike fisherman's dream comes true! Located just west of our main lodge lake and 5 miles east of its sister outpost, Campbell Lake, this lake is right in the middle of big pike country! Trophy pike caught in abundance every week is the norm on this lake, which proves without any doubt, that this lake has the "big monsters" living beneath the surface of these dark waters! There have been many reports of big 50"+ pike too large to fit into the cradles, too heavy to lift or busting up equipment as they make their getaway.
Pelletier Lake is about 14 miles long with a width averaging 1 to 2 miles. You'll get your fill of fishing on this walleye-packed and trophy pike lake, as there is no shortage of shorelines or water to explore.
The outpost cabin has a magnificent location high atop an island overlooking the west end of Pelletier Lake. It is a perfect location to wind down your day, relax and enjoy the indescribable sunsets. This pristine location will be your home for the week. The cabin accommodates 4 people and is equipped with everything one would need for a comfortable stay in this remote setting. The kitchen has a propane fridge, stove & BBQ on the deck, running water to the kitchen sink as well as a hot water shower room inside the cabin. This outpost camp is fully stocked with sleeping bags, linen, washcloths, towels, pillowcases, cleaning supplies and a complete food package.
The boats are 16 foot with new 15hp 4-stroke motors, equipped with floor boards, paddles, cradles, seats, life jackets, coolers, anchors, and removable casting decks.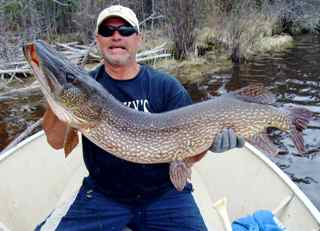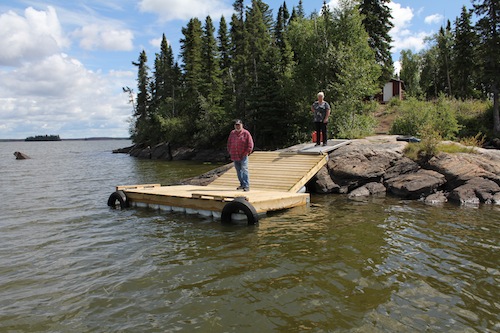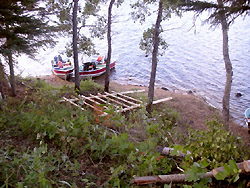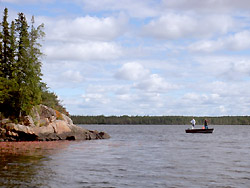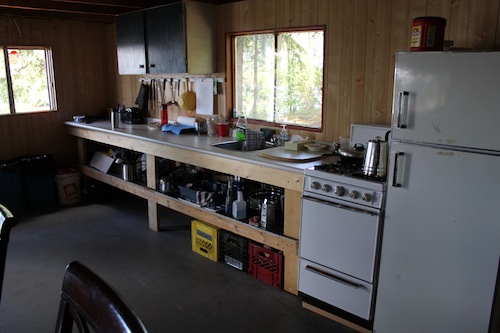 Testimonials
"What a trip. After getting the cabin opened up we got a little over a half day of fishing and ended up with 12 trophies the first day. We only really got two nice days of weather and all others were cold and windy. So after five and a half days of fishing we ended up with 33 trophies; 38 fish 40" or bigger, and couldn't count how many 35"- 39"ers.  It was another great trip even after losing a day to ice and having not great weather.  Thanks again for making it work and getting us in. Already can't wait for next year."
Thanks Ryan

WOW! Over 1800 fish caught, 41 trophies. What really impressed me was the number of big, fat 35-40 inch fish. It had to be several hundred and not 2 or 3 hundred. We had 37 trophies with two days to go, then the temp. dropped and we could only raise 4 the last two days. Compliments to Pelletier considering we couldn't get to the east side of the lake til Wed. morning due to ice. This was the first time this far north for two of our group and they were in "awe". We didn't even venture to the south and far east side of the lake. The addition you added will make this a great outpost. Thanks for a wonderful week! JB
P.S. Oh! you might consider some fishing gear at the outpost just like the main lodge! Our jaw spreaders wore out. I have the big ones and by mid-week the tension was shot and would not open the fishes' mouth! Everyone else had the small ones and they were toast in two days! Everyone of us ruined the hook removers and were down to Gerbers. Mike and David ended up using a potato masher to keep the fishes mouth open!!