"A short note to express our overwhelming satisfaction from everyone in the group for the superb fishing trek we just completed. You and your staff continue to do a great job of operating a very special lodge.  The overall service, food and last but not least the fishing continue to get better and better. We all look forward to returning in 2016 for another repeat of the last two trips."
Respectfully, Jim Willeke
---

"Best camp I have been to in over 50 years of Canadian fishing. Clean, helpful and always a chance for a fish of a lifetime. Good bang for the buck. No hidden fees, great equipment and food. Wildlife viewing abounds. Looking forward to a return trip!"
Howard (2015)
---
"What a wonderful experience we enjoyed at Pelletier. In fact, I liked it as well as any lake I have fished since 1973 in Canada.We had nonstop action at the inlet and the outlet with some really big northern at the outlet. Walleye fishing was as good as any place I have visited with most in the 19 to 23 inch class.....fat little fighters who would bite on anything. We even had one walleye with a northern in its mouth.....what a switch that was to see.We liked not having to bring sleeping bags and having the food furnished by you."
J.N. 2012
---
"Jerry & Colette,I want you to know that I had a great trip to your place last July. The partner that you hooked me up with was perfect. Our dinner table of four anglers caught 7 trophy pike and many at 39 and 40 inches.I also want to thank all of the staff members. I'll be recommending your lodge to many fishing enthusiasts in the Cincinnati area."
Thanks again! M.H. 2012
---
"Jerry - I'd like to thank you again for having me at your lodge and for a most memorable fishing trip, your hospitality and service is most appreciated. By the end of the week I had caught several trophy pike highlighted by a 45 inch northern with a huge girth.Also many thanks to my guide Wayne for all his hard work and the rest of the staff and looking forward in returning next season."
L.C. 2012
---
"Our group caught a ton of fish, 1690 in the boat! We had 11 trophies with the biggest 46". Mike had a huge fish boat side and half in the cradle. I tried to push the head back in the cradle twice, tried getting my hands undeneath the mouth twice and couldn't keep it in the cradle. It was hooked in the side below the spine and the hook was out while in the cradle. It would have been the Pelletier record as far as we know. My guess 50+". Weather was tough as you know, we fished in it all. We now know why we named one of the bay up the river Wolf Bay. On the north bank is their den. We enjoyed watching them on each trip up and down the river. Adults and pups. A magnificent bull moose at the rapids in the river. He was huge! He was already 4ft across or more! All in all we had a great time as usual."
Thanks The Clay/Krazter Party 2012
---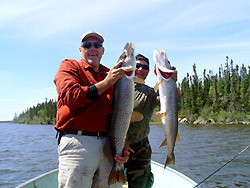 "Jerry, I wanted to let you know what a great time my brother and I had last week. It was his first time this far north. We had a great week of fishing, 13 trophies between us, the biggest being my personal best of 46 inches. Mike kept track of the fish and we easily caught over a 100 per day. As you know, there are places to fish and catch 200 per day. Our guide James was great and seemed to have the fish located, keeping moving from spot to spot. He is great at shore lunch, no wasted time! My compliments to you and the staff. Service was great, food was awesome and you did a great job with the weather. Thanks again for a great time! I'm ready to re-book for next year."
Thanks JB, 2008
---
"Jerry and Collette, I wanted to thank you both and your great staff for the wonderful week at Dunlops Lodge. My brother John and I had hoped to catch a trophy Pike each, but 13 between us greatly exceeded our expectations. Our guide certainly knew where to go at the right times to put us on a lot of great fish. The food and hospitality were exceptional and this was truly my most exciting fishing trip ever! I can't wait until I can get back!"
Take care, Mike Clay, 2008
---
"Jerry, I went to Campbell Lake for the first time a week ago. I went with high hopes of catching the BIG ONE. My expectations of a dream trip were met in every way. Our entire group caught 40" + BIG ONES, even my six year old Son! If you want to keep track of the fish you catch,then you better bring a calculator! I would recommend this trip to anyone and everyone!"
Mark Cox, 2008
---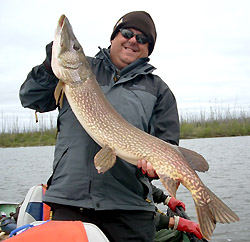 "Jerry,I just wanted to let you know what a completely wonderful time I had last week on my trip to your place with Bill and Gene. Your hospitality is unmatched as far as I'm concerned. I've been on quite a few Ventures in my lifetime, but I'll have to say last week ranks at the top. I'm really looking forward to next year. I have a awful lot of jealous friends after looking at my photos. Thanks again to you, Colette, and the remainder of your great staff. I'll be talking up your place as much as I can in the Memphis area. Can't wait to see photos on photo gallery. THANKS again!!!"
Benny Carter, 2007
---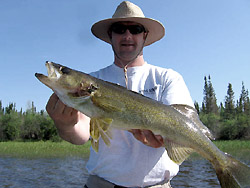 "What a wonderful trip in 2006. This was my first fishing trip to Canada; and according to my dad and his two fishing buddies (who have been coming to Canada since 1960) it does not get any better then this. I guess we will find out when we come back next year.
Honestly, unless you keep a journal on the boat, you can not count the number of fish you catch, their sizes, and how many times your line just zips off the reel as the Northern run.
As for how good it was. 4 guys 1 week - 36 Trophies (41 inches or better). Largest N. Pike was 44 ½", Countless Walleye 16 to 25 Inches, N. Pike 35 to 40 inches - we only counted (1) one day and two of us had raised 15 and we figured that was about average for the week.
That does not account for the few that "got away". My Titanium Steel leader lasted about 12 hours! The weather was amazing and I felt like a little kid again when we used surface lures one evening and there is nothing like seeing a 35" Northern strike the surface- it is two weeks later and I still get goose bumps thinking about that water exploding."
Sincerely H. Houghton, 2006
---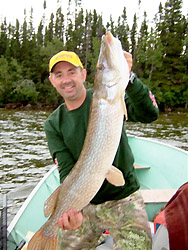 "I have been blessed with the opportunity to fish for Trophy Northern Pike in numerous places and in Manitoba the Pike grow big and strong. You must experience the adventure, professionalism and the passion that is Dunlop's Fly-In Lodge and Outpost.
Without question the absolute best destination for Master Angler size Pike, both in size and numbers. You will be amazed and impressed with not only the fishing, but the quality of family service that encompasses this awesome destination."
Jim Crowley, Midwest Outdoors Fishing Facts magazine, 2007
---